Alleppey (Alappuzha): Referred to as the 'Venice of the east', this backwater country with its vast network of Lakes, Lagoons and fresh water rivers is immensely beautiful. Four major rivers in Kerala Pampa, Meenachil, Achnkovil and Manimala flowing to Alappuzha. Venue of the world renowned snake boat races and famous for its coir products.


Kuttanadu
Kuttanad in Alappuzha, Known as the 'rice bowl of kerala' because of its wealth of paddy corps, is the very heart of the backwaters. The scenic country side of Kuttanad with its shimmering waterways also has a rich crop of banana, cassava and yam. And is one of the few places in the world where farming is done below sea level.
In Kuttanad you can experience the real backwater village life. You can watch the vendors on simple boats selling vegetables, grocery and fish to the households on the banks of these canals another sight is the group of quacking ducks in high decibels and moving across the backwaters in large numbers guided by men on small boats. Also you can watch men plying on the backwater; some diving down to the water to collect lime shells from the depths and others fishing with their nets and traditional cane basket called Ottal
If you are interested, you can taste the local dishes by dropping at the small traditionally built wayside eateries, which are quiet famous for backwater fish delicacies and tapioca. A popular naturally extracted beverage is the toddy, which is available in plenty and enjoyed by many for its specialty.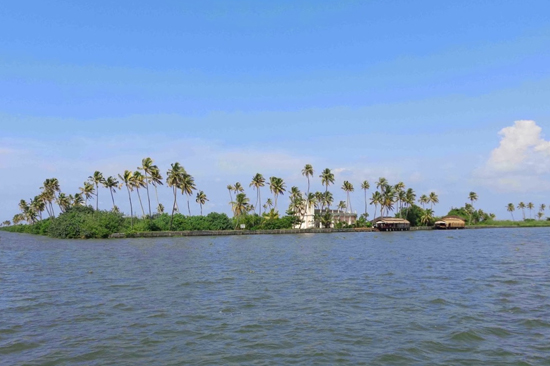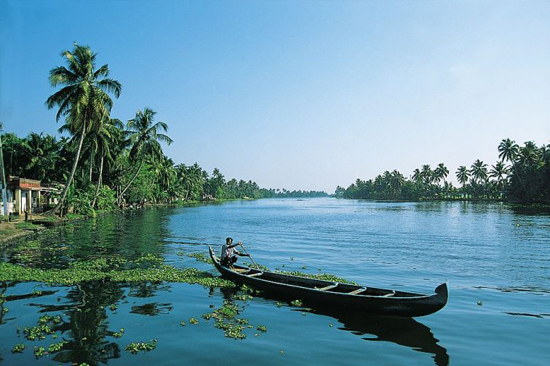 The QST and R Block Kayals - These regions are wonders of the indigenous agriculture engineering know-how of Kerala and remind the visitor of the famous dikes of Holland. Extensive areas of land have been reclaimed from the backwaters and are protected by dike all around, a process that started 100 years ago. Here cultivation and habitation are made possible four to ten meters below sea level. R Block, at nearly 850acres, it the largest reclaimed area.
Champakkulam church
Among the oldest churches in Kerala, the St. mary's church is believed to be one of the seven established by St. Thomas in AD 427.
Chavara bhavan
Located at a distance of 6 km from Alleppey and is accessible only by boat. It is the ancestral home of the blessed Kuriakose Elias Chavara. It is now a holy shrine and spiritual resort where thousands of devotees gather for prayer receive favors and feel amply gratified. Here, a 250-year-old historically important beacon of light is preserved intact in its original and primitive form.
Karumadikkuttan statue
Karumadikkuttan statue- (accessible only by boat) Karumadi this village, is known for its 10th century Karumadikkuttan statue, a black granite figure of the great Buddha, the founder of Buddhism. There are many interesting legends connected to this idol. Some people believe that it is the statue of Jaina but most of the people believe that it is the statue of Buddha.
HOUSE BOAT CRUISE PACKAGES FROM ALAPPUZHA-
Alappuzha rounding (01 Night & 2nights cruise).
Alappuzha to Kollam (01 Night, 02 Nights & 3nights cruise)
Alappuzha to Kumarakom (01 Night & 2nights cruise)
Alappuzha to Cochin(Thanneermukkom ) (01 Night & 2nights cruise)