Kumarakom:
(14Km from Kottayam) Nestled among lush paddy fields, high lands and extensive rubber plantations is Kumarakom, one of the most beautiful backwater stretches of Kerala. Situated on the banks of Vembanad Lake, in this small water world you'll come across plenty of traditional country crafts, boats and canoes which will take you into the heart of the scenic lake. The resorts nearby offer comfortable accommodation and exclusive leisure options like an Ayurvedic massage, yoga, meditation, boating, fishing, angling and swimming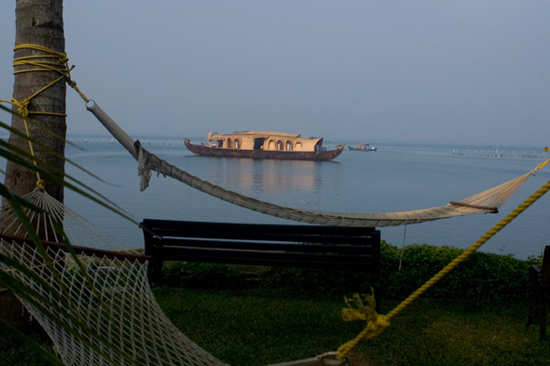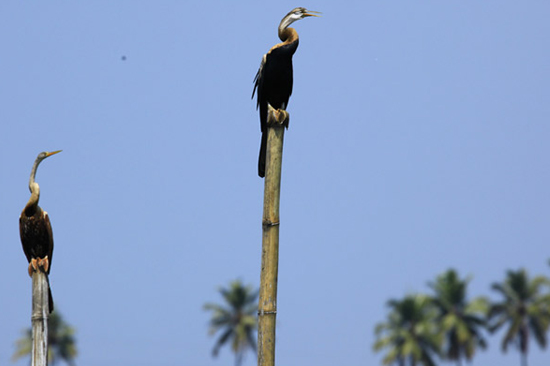 Vembanad Lake :
( 16Km from Kottayam) Kottayam is a vast network of rivers and canals which empty into the great expanse of water called the Vembanad Lake the Largest lake in kerala. An enchanting picnic spot and a fast developing backwater tourism destination, provides boating, fishing and sightseeing experiences that are truly exhilarating.
This is an unbelievably beautiful paradise of mangrove forests, emerald green paddy fields and coconut groves interspersed with enchanting waterways and canals adorned with white lilies.
The Kumarakom offers houseboat cruises and holiday packages. The serene lake comes alive during Onam with a spectacular water regatta - the snake boat races.
Kumarakom Bird Sanctuary : (16 km from Kottayam town): Located on the banks of the Vembanad Lake, the Kumarakom Bird Sanctuary, an ornithologist's paradise, is a favourite haunt of migratory birds like the Siberian stork, egrets, darters, herons and teal. Other common varieties like the woodpecker, skylark, crane, water hen and parrots can also be spotted here. A cruise along the Vembanad Lake is the best way to experience the sanctuary.
Pathiramanal: (accessible by boat) means sands of midnight, This 10 acre island on the backwaters is home to many rare varieties of migratory birds from different parts of the world. According to mythology a young Brahmin dived into the Vembanad Lake to perform his evening ablutions and the water made way for land to rise from below, thus creating the enchanting Island. The island can be accessed only by boat.
HOUSE BOAT CRUISE PACKAGES FROM KUMARAKOM
Kumarakom rounding (01 Night & 02 Nights cruise )
Kumarakom to Alappuzha (01 Night & 02 Nights cruise)
Kumarakom to Kollam (02, 03, 04 & 05 nights cruise)
Accessing Kottayam
Kottayam has well established rail and road links with major cities of India. Kottayam is connected by good motorable roads to all parts of Kerala .
Transportation :
Air : The nearest Airport is Cochin International airport (COK). 76km from city centre, Cochin International Airport has direct non-stop international flights to Abu Dhabi, Colombo, Dammam, Doha, Dubai, Kuwait, Muscat, Riyadh, Sharjah, and Singapore. It is also linked with Chennai, Coimbatore, Delhi, Mumbai, Goa, Agatti, Thiruvanathapuram, Hyderabad and Bangalore by domestic flights.
Rail : Kottayam Railway station (Ktym) is 2 Kms from City centre
For train enquiries log on to : http://www.indianrail.gov.in/src_dest_trns.html
Road: Kottayam Bus station is 1 Km from City centre, Frequent buses available from Cochin (Ernakulam), Thekkady(Kumily) and Trivandrum
Road Distance from major tourist places:
Cochin – 76Km (1and half hr)
Alleppey – 50Km (1and half hr)
Thekkady – 114Km (3hrs)
Munnar - 142Km (3 and half hrs)
Kollam – 100Km (2hrs)
Trivandrum – 152Km (4 hrs)
Varkala – 126 Km (3hrs)
Kanyakumari – 248Km (7hrs)
Madurai – 250Km (7hrs)
Coimbatore – 272Km (5hrs)
Bangalore – 580Km (13hrs)
Goa – 900Km
Chennai – 680Km