One of Kerala's popular attractions is its delicious Kerala cuisine. The unusual cuisine of Kerala brings to the fore the culinary expertise of the people of Kerala. Producing some of the tastiest foods on earth...
The cuisine of Kerala is characterized by the use of coconut, either chopped or grated and used as garnishing, coconut milk or paste is used to thicken gravies and coconut oil is used for cooking. Though one can't imagine Kerala food without chilies, curry leaf, mustard seed, tamarind and asafetida. Vegetables such as beans, cabbage, Beetroot, Carrot, Onion, Potato and yam form part of the cuisine of Kerala. Bananas and coconut are available year round and is a staple of the Kerala diet.
Seafood is very popular in Kerala. Various sea fish including sardines, mackerel, tuna, Seer fish and Pomfret etc… Backwater fishes are Prawns, crabs, Green Chromide (Pearl spot), mussels, oysters etc... , Chicken / Meat food dishes are widely used in Kerala, Verity of Kerala style chicken dishes available in the form of Gravy / Fry.
The refreshing juice of the tender coconut is a delightful drink, which you can enjoy on Kerala Tours with Kerala Backwater. Enjoy the delicious Kerala cuisine while cruising through Kerala Backwaters.
Lunch Dishes
The Kerala Meals / Sadya: A Sadya is traditionally a vegetarian meal served on banana leaf; it features par boiled rice, Vegetable Curries, side dishes, savories, pickles and desserts.
Curries include Dal curry (Parippu), Sambar or fish curry etc…, The Dal curry made of small gram and ghee. Sambar, the famous south Indian vegetable stew in which any available combination of vegetables is boiled in a gravy of crushed lentils, onions, chilies, coriander and turmeric with a pinch of asafetida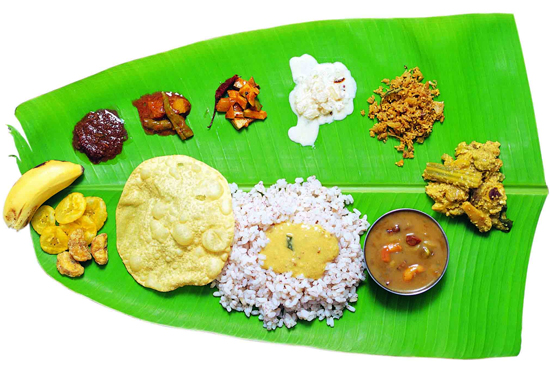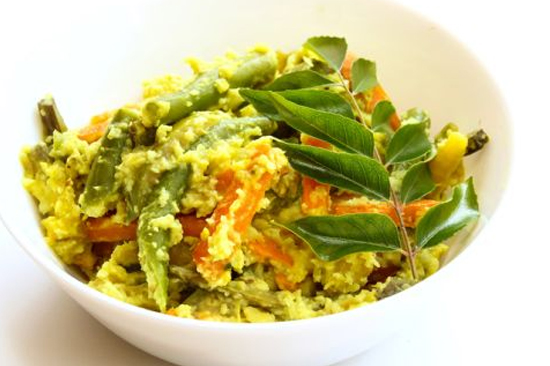 Side dishes are Two or more varieties of Avial and Thoran. Avial is a blend of vegetables, coconut paste and green chilies. Thoran can be minced string beans, cabbage, Beetroot, Carrot or grams, mixed with grated coconut and sautéed with a dash of red chilies and turmeric powder.
The savories include Upperi, Pappadam, Vegetable salad, Ginger pickle, Pachadi and Kichadi. Upperi is deep fried banana chips. Pappadams are fried creamy yellow sun dried wafer of black gram flour. The Ginger pickle is a rich brown, hot and sweet ginger chutney while the Kitchadi consists of sliced and sautéed cucumber or ladies finger in curd, seasoned with mustard, red chillies and curry leaves in coconut oil. Pickles are usually mango and lime. Vegetable salad is a combination of sliced vegetable and curd.
The Dessert serving is Payasam is a thick fluid dish of sweet brown molasses, milk and spices, garnished with cashew nuts and raisins.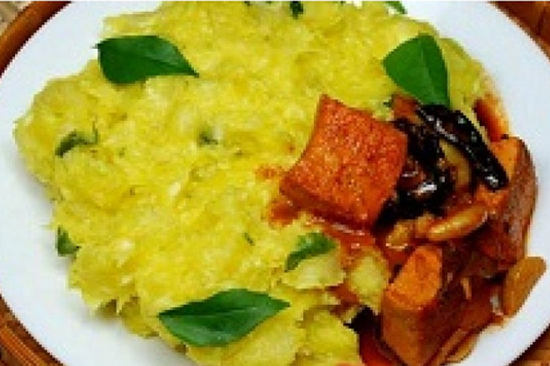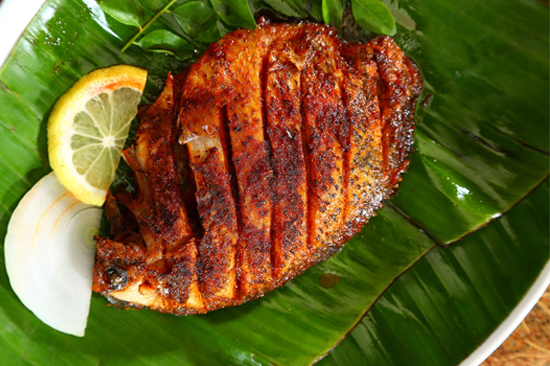 Tapioca and Fish Curry A sumptuous, mouthwatering delicacy, it's a not- to- be-missed combination of 'Kappa' and 'Fish curry'. With natural flavors erupting out of it liberally, the fish curry is made with garlic paste, onions and red chilies and seasoned with mustard seeds and curry leaves. 'Karimeen pollichadhu' and 'Fish Molly' made from Green Chromide fish (Pearl spot fish) is another not- to- be-missed delicacy in Kerala.
Breakfast dishes
Appam - is the soft pancake made from toddy fermented rice batter, with a soft spongy middle, which is laced with crispy edges. It is generally consumed with either vegetable, chicken or mutton stew
Puttu - A type of steam cake, 'Puttu' is made from rice flour and steamed in long hollow bamboo or metal cylinders. Depending on the taste preference, Puttu can be had with steamed bananas and sugar or with a spicy curry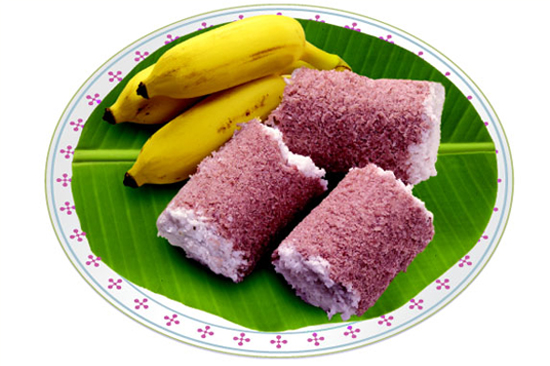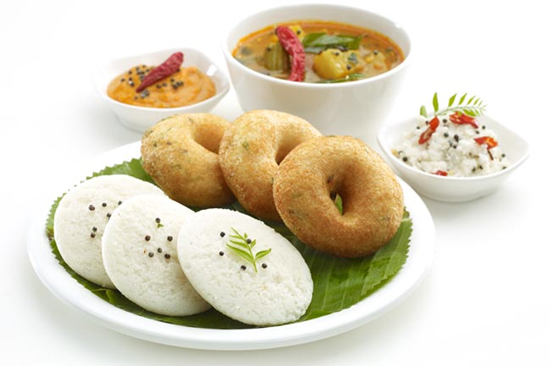 Idiyappam - is a kind of breakfast dish popular in Kerala It is also called as noolappam. Made of rice flour, salt and water, it is one of the simplest breakfasts that can be made. Served with vegetable egg or meat dishes.
Dosa - Regular dosa batter is made from rice and split, skinned urad bean blended with water and left to ferment overnight. (A modified form of the same batter can be used to make.
IDLI - The idlis are usually two to three inches in diameter and are made by steaming a batter consisting of fermented black lentils (de-husked) and rice
Dinner Dishes
Chappathi Or Poori, It is generally consumed with either vegetable, chicken or meat.
Chapathi is a medium sized, rather thin, unleavened cooked dough product from wheat flour, It is a type of roti.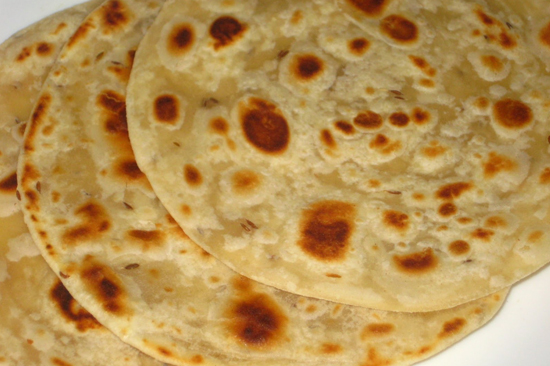 Poori - is made from a dough of atta (whole grain durum wheat flour), water and salt by rolling it out into discs of approximately the size of palm and deep frying it in ghee or vegetable oil